Location: Perth, Australia
Program: International Competition / 2009
Area: 400 m²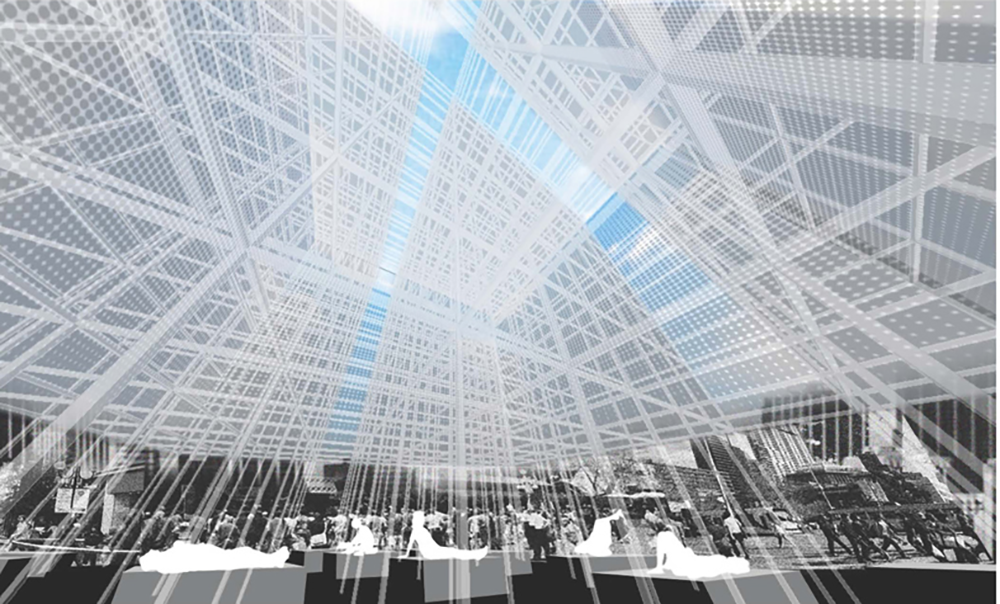 The Mute Monument
Vertical Horizon is a mute monument to the City of Perth. The monument is a proposal to redefine the idea of public space at Forrest Place by establishing the identity of a center through silence. The exterior establishes a symbolic center within the public sphere through its mute monumentality against the gentrified spectacle of the city. The interior provides momentary relief and focus of a centralized space. The expansive horizon one finds outside of Perth is translated vertically into a silent monument in the midst of dense urban movements.
Site
Forrest Place is a site of historic significance to the City of Perth. Historically it has been a focal point for significant political meetings and demonstrations and its location as the main gateway into the city center from Perth Station establishes the site as the central public space of Perth. With massive new developments underway for adjacent areas of Northbridge and North of Perth Station, Forrest Place will become a new focal point as the connecting node between the current city center and the new development areas.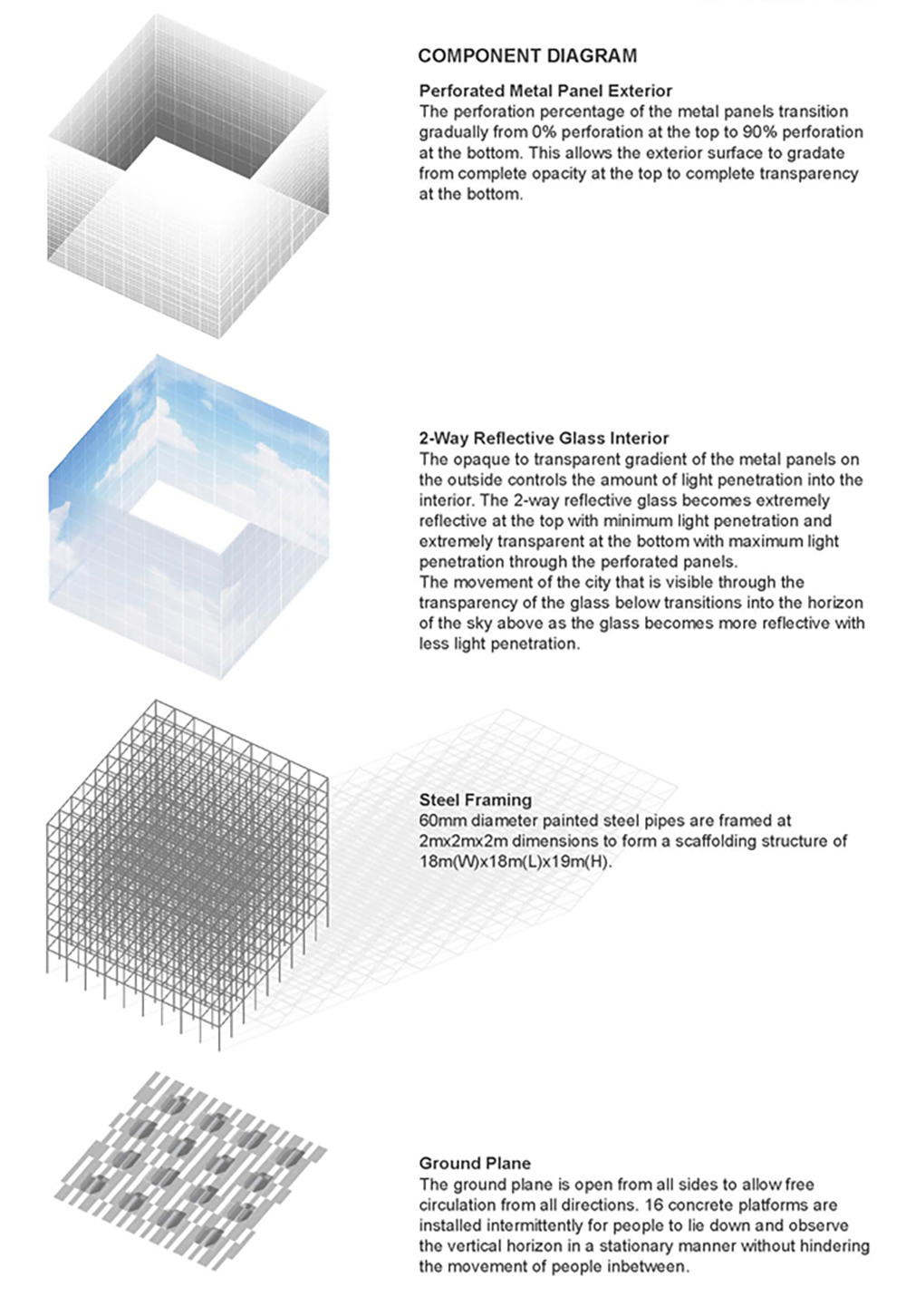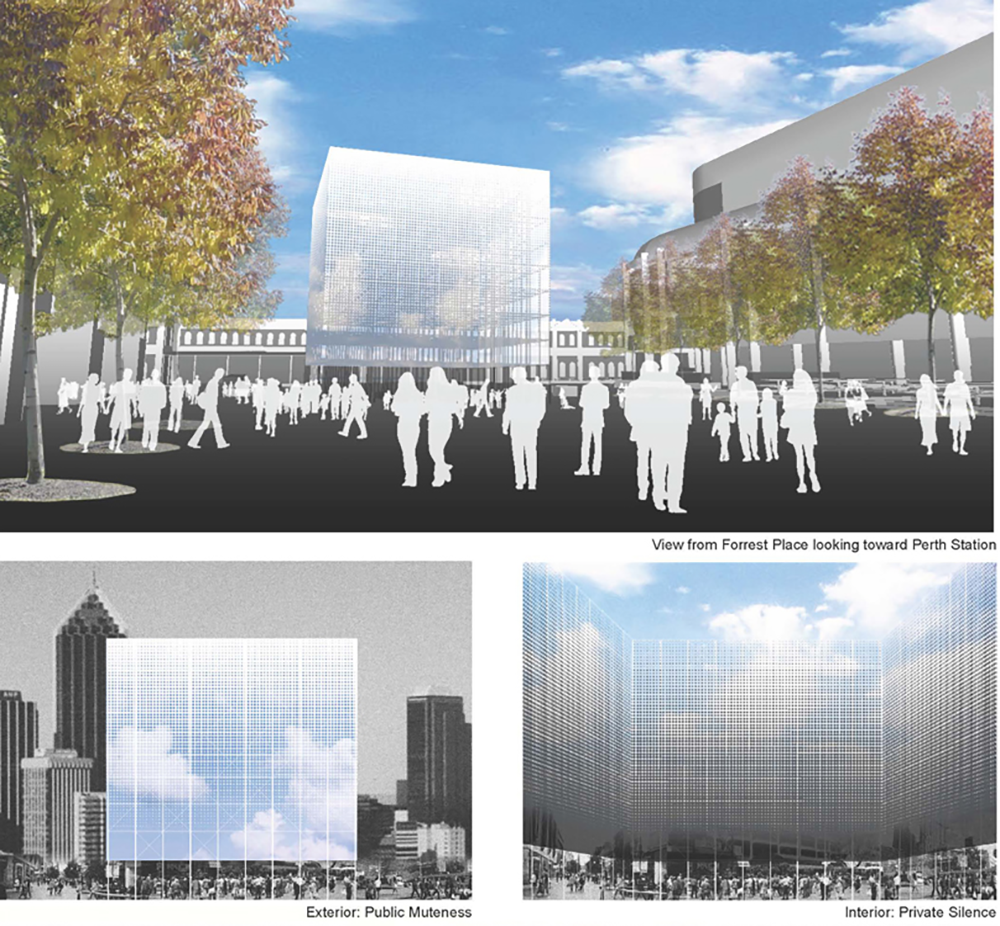 Public Space
Throughout the world, urban developments in contemporary cities use the phrase "public space" profusely with eager anticipation. Provisions of landscaped open areas inbetween buildings are defined as public space and are presented as the main attraction to property developments. But commercial programs and landscaped planters do not define good public space. Placemaking is not just the act of building or fixing up a space, but a whole process that fosters the creation of vital public destinations and communications: the kind of places where people feel a strong stake in their communities and a commitment to making things better. Placemaking capitalizes on a local community's assets, inspiration, and potential, ultimately creating good public spaces that promote people's health, happiness, and well being. A new public art work at Forrest Place offers the invaluable opportunity to redifine the idea of public space as a "place" for the city. In this context, Vertical Horizon attempts to reclaim the central identity of Forrest Place as public space, a space of public identity, gatherings, activities and communication.
Public Muteness
Vertical Horizon is a mute monument to the city. In the midst of divergent urban conditions of the old, new and yet to come, the installation is proposed as a mute structure that can maintain autonomy from its surroundings and therefore the capability to establish a new center for the site. The mute monumentality is key in sustaining the identity of the center within the constantly evolving spectacle of the city.