Location: Doneuimun Village, Seoul, Korea
Program: Shareable City Exhibition / Seoul International Biennale of Architecture and Urbanism / 2017
Sponsor: Art Center NABI Future Studies / City of Seoul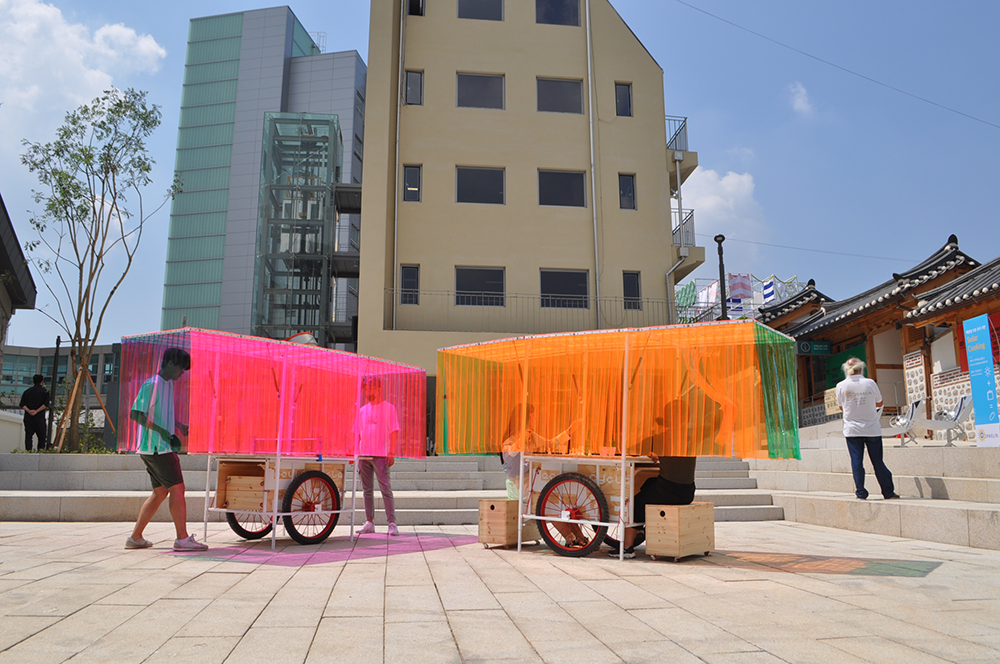 SeoulReCycle is a recirculating urban recycling system that addresses the environmental, social, economic challenges of the Gwanak-gu Goshichon neighborhood in Seoul Korea, through active integration of informal recycling collection by the neighborhood seniors.
Background
Goshichon in Seoul is a low-rise high-density residential neighborhood that has the highest number of single person households in Seoul of which 77.2% are in their 20-30s. The neighborhood's nickname Goshichon means "state exam town" where thousands of young people reside for a few years to prepare for the state exams, which promises a secure career in Korea. And due to its cheaper rents, young workers from the rest of the country flock to this neighborhood as their first entry point into Seoul.
The neighborhood is fraught with environmental problems, such as lack of parks and public, leisure spaces, as well as insufficient trash, recycling collections due to the narrow streets and steep topography. Residents also cite wide spread social and psychological problems due to high turnover rates and lack of community interaction, as a majority consider themselves to be transients rather than permanent residents. It is also one of the lowest income neighborhoods with many old residents.
Project Concept
SeoulReCycle proposes to address the environmental, social and economic challenges of Goshichon through three strategies. First, the project proposes to approach the lack of public recycling collection, disposal problem by facilitating informal recycling by low-income seniors of the neighborhood who make minimum income by collecting recyclables.
Second, a network of Recycling Hubs will be stationed in unused small lots to allow residents to dispose of recyclables which will allow for the residents to assist the recyclable collecting seniors in their daily rounds which will contribute to the income of the seniors as well as give a sense of community to the residents of the neighborhood.
Third, the project proposes Mobile Stations which can be rented out by residents with points accumulated through recycling at the Hub. The Mobile Stations can be used for various scales of events and programs such as outdoor seating or a large week-end market. Extra points can be exchanged for goods from the neighborhood vendors who in turn can rent out Mobile Stations for business purposes. Local as well as non-local vendors can also rent out the Stations for a fee which can generate income for maintenance and keep.
Site
SeoulReCycle proposes to expand existing informal infrastructures and economies found in the everyday spaces and communities to encourage a sustainable urban infrastructure that can address everyday problems that the public infrastructure cannot manage sufficiently on its own.
Recycling Hub
Mobile Station
Environmental / Social / Economical Cycle
SeoulReCycle proposes a sustainable urban infrastructure that can address everyday problems that the public infrastructure cannot manage sufficiently, such as the insufficient trash collection in low-rise high density neighborhoods due to absence of centralized maintenance, and governmental budget issues.
Project Team
Project Lead: Yehre Suh / Office of Urban Terrains
Team Members: Haein Choi, Kyongsun Park, Ara Song, Sanghuk Kang, Bumtaek Im, Kay Choi